Free After Rebate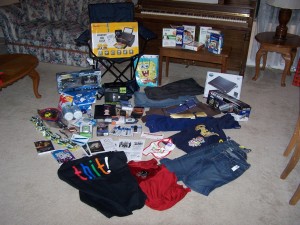 In this article I will outline the details of how I got over $1,400 worth of Christmas gifts for free. Many, but not all, of these gifts are pictured above (not all items are pictured below either). You may have read a similar post from last year when I got over $300 worth of Christmas gifts for free. This year I was a little more organized and experienced, and I started the task a little bit earlier. Last year I started on Black Friday. This year, I started gathering freebies for Christmas in September.
My first resource of freebies is a passive source of income from Cafe Press. Actually Free (this blog and website) emphasizes freebies that are actually free, meaning there is no monetary requirement to obtain the freebie. This is important because there are many marketing strategies which use the word "free" but actually get consumers to spend more. I'm very conscious of this and I downright refuse to let any promotion trick me into spending more than I would have spent otherwise. While some freebies don't require any monetary output, they all require time (again, I started gathering these freebies in September). A passive source of income is considered to be actually free when there are no start-up costs for establishing the passive income. In some cases I might even consider passive income to be free once the start up costs are met because the rest is gravy, and by definition a passive form of income provides a stream of money that doesn't require time once it is established. Cafe Press is an online T-Shirt and printing store that pays a commission to designers. It is easy to become a designer. All you have to do is sign up for a free account, open your own Cafe Press store and start submitting designs. Once the design is submitted it not only appears in your store but in the Cafe Press market place. So the design is available to all visitors of Cafe Press. I use free image resources for my designs, such as OpenClipart.org. All images at OpenClipart.org are in the public domain unless specifically stated. This means that they are free of copyright. When submitting designs to Cafe Press, it is important not to used copyrighted or trademarked material. Not only is it illegal, but Cafe Press is very good about removing it. Trust me, even when you didn't realize you were violating a copyright or trademark, they'll remove it. I also use a free image editor (Sumo Paint) to create my designs in addition to the tools they already have on Cafe Press. Since there were no start up costs, the images are free, and the image editing software is free, Cafe Press provides a passive source of income that is actually free. Once my designs are submitted, I get a commission every time an item with my design makes a sale. I don't do any marketing or order fulfillment. I just submit the designs, wait for them to sell, and receive my commissions. There are many other ways to establish a passive income online that don't require image design. Anything that can be distributed electronically has a potential for income. This includes text, photography, computer graphics, software, music, etc.
So far this year I've received $251.71 in commissions from Cafe Press. It's not enough to support a family. But it's enough to supplement the Christmas budget every year, especially when it can be stretched into $1,400+. More commissions are due, especially since sales increase during the holidays, but Cafe Press holds on to it for a while in cases of returns and exchanges. For this article, I'll only consider the commissions I've already received. Out of the $251.71, I'm saving 20% for income taxes, which I will pay when taxes are due in April. I'm keeping this money until taxes are due because I can earn interest off of it instead of giving Uncle Sam an interest-free loan. When I say "I'm saving", I mean it in the literal sense, not the commercial or marketing sense. I'm keeping it in an account until I need it. That is what "saving" is. When retailers tell you that you're "saving" by shopping with them and getting good deals, you're not actually saving, you're spending. You might be able to say that you're "spending less" in some instances, which is the phrase that I'll be using for the rest of this article. But one of the steps of becoming an extreme saver is to recognize when retailers are trying to trick you and avoid it. After taxes, I'm left with $201.38 in Cafe Press commissions.
$251.73 – $50.35 estimated taxes = 201.38
My first gift for the season is to donate 10% of my income to Charity. I calculate this from gross income.
$201.38 – $25.17 charitable contribution = $176.20
This $176.20 in passive income commissions creates a nice buffer for all the other freebie strategies listed below. If I didn't have this buffer, then some of the items listed below would not have actually been free. However, many of them were actually free without the buffer and a couple of them even paid me. Many of the items below were marketed as "free after rebate". This means that after buying the item, a rebate can be requested by mail that equals the sales price. However, the rebate doesn't usually cover sales tax. And it certainly doesn't cover the postage required for requesting the rebate. For all items listed below, I tried to detail what the other costs of obtaining that freebie would have been. In the case of rebates, stamps are $0.45 for each rebate, and envelopes are $0.03 each. Some items that were free after rebate were actually free after two rebates, so they required two stamps and two envelopes.
If I wanted to add to my buffer, I might have included the cash back that I receive from using my credit card. With the particular credit card that I have, once I accumulate a minimum of $100 in cash back rewards I can request a check. This year I could have requested a check over $300. I have some points of advice when it comes to rewards programs which I state over and over again. One, avoid getting too many credit cards because too many lines of credit can negatively affect your credit score. I also considered getting a frequent flyer credit card so that I could claim some points I had accumulated from flights for prizes. These prizes, such as an Amazon gift card or restaurant gift cards, would have made excellent Christmas gifts. However, I hesitated to do that because the cost of it affecting my credit score can outweigh the prizes. Generally keep the number of lines of credit that you have to 5. This includes credit cards, loans, mortgages, car payments, or anything that you owe. So if you have a house payment and a car payment, don't get more than 3 credit cards. There are many rewards programs that don't require credit cards; be weary of the ones that do. The second point of advice that I have for rewards programs and credit cards is to never carry a balance. If you carry a balance on a credit card, the amount that you owe in interest will outweigh any cash back, prizes or freebies. When I use my credit card it is only for planned purchases which I can back up with cash. I pay the balance off every month so I don't accrue interest and still collect the cash back reward. The third point of advice that I have for rewards programs is to forget that you're participating in a rewards program while you're shopping. The rewards program itself should never influence you into making a purchase that you wouldn't make without the rewards program. Then once you've accumulated enough points to claim cash back or prizes, it's a nice bonus.
One other difference between this article and last year's article is that I'm calculating the total worth of these gifts based as closely as I can to the retail value. I didn't have a reliable way of calculating the fair market value, especially since they may have a value, but I got them all for free. (You really only need to know the difference between a suggested retail value and a fair market value if you win a prize that is worth enough to be taxable. All of the items below were either paid with after-tax money or the fine print of the prize stated that the monetary value of it was less than 1/100th of a cent).
After Cafe Press Commissions, the first resource of freebies was Sears Apparel Outlet. Sears Apparel Outlet ran their Free Apparel Tuesday promotion for most of the year. As far as I know they started during the holiday season last year and ran it almost every Tuesday through the end of September of 2012. If I had noticed that they continued the promotion after Christmas, I probably would have gone more often and received more freebies. Free Apparel Tuesday at Sears Apparel Outlet offered one free piece of apparel per customer. There was no purchase requirement, and there was no sales tax since a percentage of zero is zero. The promotion was only offered at Apparel Outlets and not Sears Appliance Outlets or other Sears-owned stores. The locations for Sears Apparel Outlets are sparse, so this promotion was generally only good for those who live within reasonable driving distance. Here are the freebies that I received: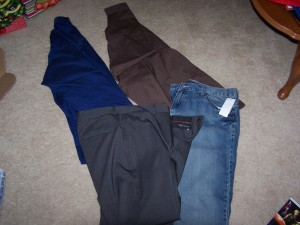 Dress shirt, regularly $10 outlet price and $35 retail price.
Dress shirt, regularly $10 outlet price and $35 retail price.
Dress pants, regularly $13 outlet price and $40 retail price.
Jeans (non-Levi's according to the promotion rules), regularly $13 outlet price and $40 retail price.
Total Value $150 from Sears Apparel Outlet. Cafe Press Buffer $176.20
Those of us who have benefited from Free Apparel Tuesdays at Sears Apparel Outlet watched and watched for the promotion to return after it ended in September. Throughout the holidays I thought they'd bring it back. I thought they'd bring it back the Tuesday after Thanksgiving, and every Tuesday in December, but they didn't. By about December 21st I was beginning to think they wouldn't bring it back at all, but I noticed an announcement on their facebook page stating that there would be a Free Apparel Day on Christmas Eve. I'll do my best to attend if my schedule permits. This pattern makes me wonder if they won't have the "free apparel" promotion as often in 2013. They might only bring it back for special occasions. One of those occasions will certainly be whenever they have a grand opening of a new branch, and it will only be available at that branch.
After Sears Apparel Outlet, we get into the rebates. The kicker with rebates is that you have to pay the money up front and then you get refunded about 6-8 weeks later. Items that are free after rebate (FAR) or free after mail in rebate (MIR) are also risky gifts since the recipient of the gift can't return or exchange the item. Rebates require that the bar code be removed from packaging. Once that action is performed the store won't accept it back. Generally, the major retailers that offer rebates are Newegg, Fry's Electronics, and Tiger Direct, with occasional rebates from office stores like Staples and Office Depot. However, many other retailers had items for free after rebate during the holidays. Out of all these retailers, the best one to buy from is Newegg. That's because Newegg almost always offers free shipping on these items, and when you buy from a retailer online they don't charge sales tax unless the shipping address is in the same state(s) as their operation. In the case of Newegg, those states are California, New Jersey and Tennessee. Since they offer items for free after rebate, and since there is no shipping and no sales tax, these items are actually free. Newegg is also fantastic with their order fulfillment and their rebate fulfillment. The only drawback with Newegg rebates is that some of the rebates come in the form of a prepaid Visa card. These cards can have some limitations. A few places won't accept them and if they're not used within the first 6 months then a fee is charged (deducted from the amount on the card). In the past, I've never had trouble using them for unavoidable expenses such as gas and groceries. This way I'm able to use them; it doesn't trick me into spending money I would not have spent otherwise; and I don't forget to use them since I have to buy gas and groceries almost every week. The minute it arrives in the mail it goes in my wallet where my other payment cards are located and I use it as the first form of payment until its gone.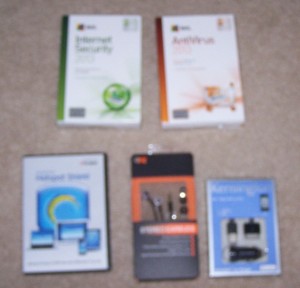 (Sorry its a little blurry)
Parallels AnchorFree HotSpot Shield, $35.01 – 35 mail in rebate = 0.01 (Rebate received)
AVG Antivirus, 1 user, 1 year, $20 – 20 mail in rebate = 0.00
AVG Internet Security, 3 PCs, 1 year, $45 – 45 mail in rebate = 0.00
Earbuds, 12 – 11.99 MIR = $0.01
Logitech H150 3.5mm Connector Supra-aural Stereo Headset – White, $10 – 10 mail in rebate = 0.00
Kensington Car Charger $11.99 – 10 mail in rebate = 1.99
Rebate postage: 6 rebates x (0.45 + 0.03) = $2.88
Total value from Newegg $134, Cafe Press Buffer $176.20 – $2.01 total prices after rebate – $2.88 postage = $171.31
The Kensington Car Charger is a good point of discussion since it wasn't free. The rebate didn't trick me into buying something I wouldn't have purchased otherwise. I was specifically looking for a USB car charger as part of a package of iPad accessories that I was creating as a gift for my mother. This charger was the cheapest that I could find up to the time that I bought it. However, after I bought it, I found another one online for $1.95 at FastTech.com which didn't require a rebate. I had no remorse for this since I didn't find the deal in time to get it shipped before Christmas. However, the same weekend I also found one at Fry's Electronics for $1.99. It would have been nice to get the same item without having to send in a rebate since I would have saved on postage. I also wouldn't have had the risk of the rebate not getting fulfilled. (I'm still counting the retail value of the charger in the total value, although I know some brands regularly sell for $5 or less). I've made some other orders with FastTech.com and since they're an off-shore retailer I will comment on this blog once the orders have been received. Shipping can take up to a month so I haven't received these items yet, even though I've included them in the total calculations below.
After Newegg, the next best place to get items for free after rebate is Fry's Electronics, if only for the sheer frequency of rebate offers. Fry's Electronics only has 34 locations in 9 states, so these deals are only beneficial to those who live within reasonable driving distance. Since these purchases were made in-store, sales tax was applicable and it was not covered by the rebate.
Start, Run & Grow Your Business, $25 + 2.33 sales tax – 25 mail in rebate = 2.33 (rebate received)
Turbo FloorPlan 3D Home & Landscape Deluxe, $50 – 10 instant savings = 40 + 3.72 sales tax – 40 mail in rebate = 3.72 (rebate received)
WebEasy Professional 8, $40 – 5 instant savings = 35 + 3.26 sales tax – 10 mail in rebate – 25 mail in rebate = 3.26 (both rebates received)
Deluxe Will Creator, $25 + 3.33 sales tax – 15 mail in rebate – 10 mail in rebate = 3.33
Notebook Cooler, $7 + 0.65 sales tax – 7 mail in rebate = 0.65
Antec Microfiber cleaning Cloth, $2 + 0.19 tax – 2 mail in rebate = 0.19
SIIG WakeStylus, $6.49 + 0.60 – 5.50 mail in rebate = 0.99 + 0.6 = 1.59
Webster Medical dictionary software, $13.99 + 1.13 – 13.99 = 1.13
SIIG Cleaning Wipes, $5 + 0.41 – 5 MIR = 0.41 (Black Friday deal)
Uniden bluetooth headset, $10 + 0.81 – 10 MIR = 0.81 (Black Friday deal)
camera cleaning pen, $5 + 0.41 – 5 MIR = 0.41 (Black Friday deal)
All in one screen cleaner, $5 + 0.41 – 5 MIR = 0.41 (Black Friday deal)
Lens cleaning pen, $2 + 0.16 – 2 MIR = 0.16 (Black Friday deal)
Belkin surge protector, $11.50 + 0.93 – 11.50 MIR = 0.93 (Black Friday deal)
Swann Helicopter, $29.99 – 10.99 instant savings = 19 + 1.54 – 15 MIR = 4 + 1.54 (Black Friday deal)
Travel adapter, $5 + 0.47 – 5 MIR = 0.47 (Week after Thanksgiving)
iPad case, $15 + 1.4 – 15 MIR = 1.4 (Week after Thanksgiving)
Rebate postage: 19 rebates x (0.45 + 0.03) = $9.12
Total Value from Fry's Electronics $257.97, Cafe Press Buffer $171.31 – $26.74 total price after rebate – $9.12 postage = $135.45
The sales tax varies because some purchases were made in a different state during Thanksgiving. Dollar Tree also sells a stylus product for $1 which I didn't find until after purchasing the stylus listed above. I realize the Swann Remote Controlled Helicopter wasn't "free after rebate", but I knew I had the Cafe Press Buffer when I bought it and $4 for a remote control helicopter has got to be some kind of a record. Those things are usually $30 at least. And it's not software or an electronics accessory like most freebies after rebate; its the actual item.
On another note, getting Will Creator software, probably isn't a good gift for any one other than yourself if you happen to want it. I thought about giving this to my dad as a gag gift but didn't know how well the joke would go over. The overwhelming majority of the items listed in this post made good gifts for others. That's another difference between this article and last year's article. Last year, I mostly only included gifts for myself and my son. This year it's a little more spread out for other people. A lot of the smaller items, like the camera lens cleaners listed above or the hooks listed and pictured below, were excellent stocking stuffers.
The following items were free after rebate from Staples. Since they were purchased in-store the sales tax was applicable.
Command Damage-Free Hanging Hooks, $3 + 0.26 – 3 mail in rebate = 0.26 (rebate received)
Command Damage-Free Hanging Hooks, $3 + 0.26 – 3 mail in rebate = 0.26 (rebate received)
Pack of Pens,  $6 + 0.53 – 6 mail in rebate each = 0.53 (rebate recevied)
Pack of Pens,  $6 + 0.53 – 6 mail in rebate each = 0.53 (rebate recevied)
Ream of paper, $6.99 + 0.62 – 3 MIR – 3.99 MIR = 0.62
Ream of paper, Free (Should have been "free after rebate" but their register wasn't printing receipts so they marked it down to a penney and gave it to me. This allowed me to go to another nearby branch to buy another ream of paper for "free after rebate".)
Ream of paper, $6.99 + 0.62 – 6.99 MIR = 0.62
Rebate postage: 6 x (0.45 +0.03) = $2.88
Total value from Staples: $38.97, Cafe Press Buffer $135.45 – $2.82 price after rebates – $2.88 postage = $129.75.
When the rules of the rebate specified "only one per address", I had my wife send a rebate request under her name and address and then I sent one under my name and my parent's address. Since I had a different mailing address we were still following the rules and we both qualified for the rebate.
The following items were free after rebate from Big Lots.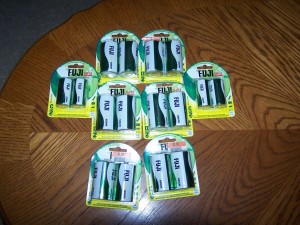 4 packs Fuji batteries, 2 mail in rebate each, 8.74 – 8 MIR = 0.74
4 packs of Fuji batteries, 2 mail in rebate each, 8.74 – 8 MIR = 0.74
Rebate postage: 4 rebates x (0.45 stamp + 0.03 envelope) = $1.92
Total Value from Big Lots: $16, Cafe Press Buffer $129.75 – $1.48 total price after rebates – $1.92 = $126.35
Big Lots actually had two different battery promotions. My wife and I both participated in both promotions so that we'd have more batteries for electronics on Christmas. These particular rebates were a good demonstration of why it is important to read the fine print. The advertisement where these rebates were found only stated that the rebate was worth $2 for 1 pack of batteries. But the rebate form said that each person could buy 2 packs for up to a $4 rebate. They had multiple options: 4 pk of AA or AAA, or 2 pack of D or C, etc. We got 12 D batteries and 4 C batteries at a price of $0.09 per battery after rebate.
The following was free from Tiger Direct. Since I ordered the item online I had to pay for shipping but not sales tax.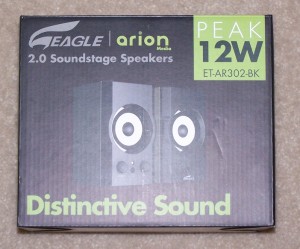 Speakers, $20 – 20 MIR + 5.26 shipping = 5.26
Rebate postage 0.45 stamp + 0.03 envelope = $0.48
Total Value from Tiger Direct: $20. Cafe Press Buffer $126.35 – $5.26 shipping – $0.48 postage = $120.61
The following was free from Sears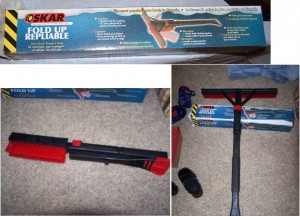 Foldable snow brush, $14.99 – 1.50 instant savings + 1.19 tax – 14.99 MIR = (0.31)
Rebate postage: 2 x (0.45 stamp + 0.03 envelope) = $0.96
Total Value from Sears: $14.99, Cafe Press Buffer $120.61 + $0.31 – $0.96 postage = $119.34
This was one of the two deals that I found which paid me to get it. The "(0.31)" means I was paid 31 cents to get this free product (not counting postage). I got the instant savings because I ordered the product online during an additional promotion. I got free shipping because I ordered it online through an in-store kiosk. Sears has kiosks in the store to order products that aren't in stock. When you use the in-store kiosk then shipping is free with no minimum purchase requirement.  The Rebate required a self-addressed stamped envelope which is why the postage was doubled.
The following was free from MacMall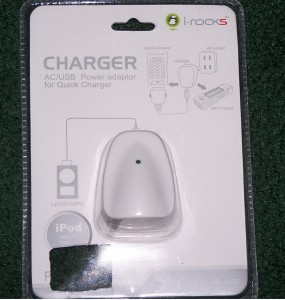 USB Wall Charger 5.99 on sale – 9.99 MIR = ($4)
Rebate postage 0.45 + 0.03 = $0.48
Total value: $9.99, Cafe Press Buffer $119.34 + $4 – $0.48 = $122.86
This was the second deal I found which paid me to get it. If I had been more on track I would have had my wife buy one too.
The following was free from True Value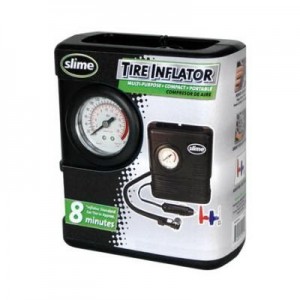 Air compressor, 14.99 + 1.32 sales tax – 15 MIR = 1.31
Rebate postage 0.45 + 0.03 = $0.48
Total value: $14.99, Cafe Press Buffer $122.86 – $1.31 price after rebate – $0.48 postage = $121.07
I almost missed this deal because they sold out by the time I discovered it. Usually "free after rebate" promotions are for software, small electronics accessories, and occasionally office supplies. Tools and automotive accessories are more rare. I was lucky enough to get this because I talked to the store owner even after they had sold out to see if there was anything he could do to help. He ordered the product for me and let me buy it that day so that the receipt would be dated within the rebate period. Since the store sale had also ended, it was no longer $14.99 but he still price adjusted it for me. It never hurts to ask and it often even helps. In this case, it also helped that the business model for True Value is different. Since it is an independently-owned franchise, the head boss was available on site and he had the authority to make that decision. I wouldn't have been able to do that at a place like Staples because corporate probably wouldn't allow it.
That about does it for the stuff that was free after rebate. There were a couple of times where I could have avoided the rebate as mentioned above, but I found that out too late. The next set of freebies was available from Black Friday promotions. In order to get these promotions, I had to buy a newspaper to gain access to the Black Friday Ads.
Black Friday Freebies: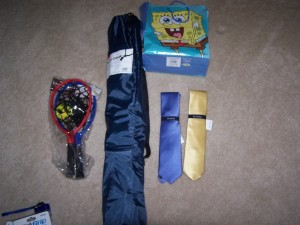 Stein Mart had a scratch and win gift card directly on their Black Friday ad. I won $10. Most Black Friday promotions were something like "$10 free with every $50 purchase". But this wasn't. There was no minimum purchase requirement. I could have purchased anything in the store for exactly $10 and avoided sales tax since 0% of zero is zero. It just so happened that I needed ties and ties were on sale for Black Friday for 5.96 ea, regularly $12 each (value of $24). I looked around at other clothes stores, and even $12 is a good deal since most ties were $20 – $25 each.
$5.96 x 2 = $12.08 – $10 gift card = $2.08.
Sports Authority gave out gift cards to a select number of first people in line. One of those customers won $500. Unfortunately that wasn't me. I won $10, and after 3 hours waiting to be first in line, I can tell you that the cards are randomized. I got a camping chair that was on sale for Black Friday and a kids' game that was on clearance. 12.50 Chair – 6 Black friday reduction + $5.97 game – 5 clearance reduction – $10 gift card for waiting in line = $0 the way it was charged. I actually had another $2.53 that I could have used which the clerk didn't tell me about. I thought I was actually going to pay extra because the kids game on clearance was marked incorrectly.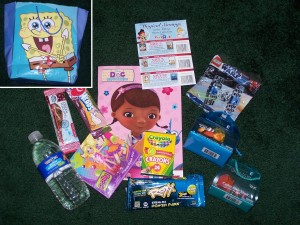 Toys"R"Us gave a bag of goodies "worth $30" to a select number of the first people in line. The "$30" value was somewhat of a generous estimate in my oppinion. The bag contained a coloring book, crayons, water bottle, a small Lego pack, and other small toys. These were good stocking stuffers and small gifts for my kids and my sister's kids.
Costco gave out a Cook Book to all members while supplies lasted on Black Friday. When I went to get this I thought it would just be a little booklet, but it was actually a really nice book that can be a decent additional gift for my wife on Christmas. $10 value at least.
If you want to learn more about these offers and other Black Friday freebies, read the Black Friday Freebies Post.
Total Value from Black Friday Freebies: $70.47. Cafe Press Buffer $121.07 – $3 newspaper – 2.08 difference in price for ties = 115.99
As usual, the holiday promotions didn't end with Black Friday. Here were some additional freebies that I found throughout December: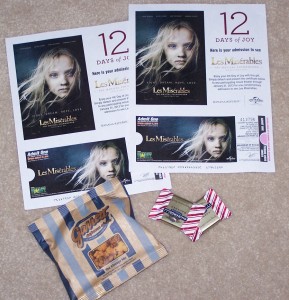 Banana Republic had a "12 Days" promotion. On Dec 4, I received two vouchers to see the new movie Les Miserables. In order to get these without making a purchase I had to ask for them, and I had to specifically ask for an extra one for my wife or the clerk only would've given me one. A lot of people would feel uncomfortable asking, but if you want freebies, sometimes you have to take courage and swallow your pride. The vouchers were good for up to $10 each for a total value of $20. I could say that these vouchers are only worth the price of a movie ticket in Arizona where I'll see the movie. However, despite what the fine print says, I've heard that the theater will apply the remaining amount to the next ticket. This means that my wife and I could use one voucher and pay the difference to get two matinee tickets. I've also heard that the voucher can be used for any movie, so we're going to try to get the full $10-worth out of each voucher. On December 5th, I received a free sample bag of gourmet popcorn, which will be good stocking stuffer for my son and should be worth at least 50 cents. On December 6th I received two Giradelli bit-size chocolate samples, which should also be good stocking stuffers and should at least be worth 25 cents each for a total of 50 cents. The popcorn would probably cost $1.50 and the chocolate would probably cost $1 if you were to buy them in the mall. But we'll stick with $1 total. When I was explaining some of these freebies to my family, they asked if it was worth the drive to Banana Republic each day to get freebies that are only worth about 50 cents each. My reply was "yes" because I happened to be passing by. I didn't spend the gas to drive there just for that purpose when the freebie was so small. There is no way to actually calculate how much gas I spent getting all the these freebies. I considered it to be negligible if the store/freebie was in route to somewhere I was already going. The same philosophy applied to the JC Penney buttons described below.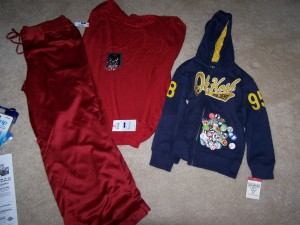 JC Penney had a buttons promotion that ran from Black Friday to Christmas Eve. On any day you could go into a JC Penney store and ask for buttons with no purchase requirement. The rule was two per customer per day, but there were ways around that which I'll explain in a minute. Once obtaining the buttons, you could go online to the JC Penney website to enter the codes that were on a sticker on the back of the button. There were various prizes available, but most of the time the prize was a $5 certificate or $10 certificate which could be used in the store. If the item you purchased matched the price of the certificate then there was no sales tax. I came up with a couple ways of getting more than two buttons a day. This only helped not to have to drive to JC Penney every day since only two codes could be entered online each day. (Again, I would only stop by JC Penney when I was already in route to do something else). One way to get more than two buttons from a clerk was to buy something. I was resolved to only get stuff for free so in my case this only happened when I was redeeming certificates. On another occasion I had my cute red-headed 3-year-old son with me. The clerk took one look at him and gave me a handful of buttons. On other occasions I got more than two by waiting in line. I know in the clerk's mind it didn't seem fair to only get two if I was waiting in line for them. It also helped that I politely asked for "some buttons please". I thinking using the word "some", not "my" or "my two", and using the word "please" prompted the clerk to give me a handful. Between Black Friday and Christmas Eve I obtained 62 buttons. Out of those buttons I won a total of $65 ($5, $10, $5, $5, $10, $5, $10, $10, $5) in certificates. The fine print says they're not supposed to be combined. However, on every occasion the sales clerk was willing and able to price adjust the products so that I could get what I wanted without having to pay extra and without having to buy items priced at only $5 or $10. If they weren't able to price adjust the products then I would have only purchased $5 or $10 items because I was resolved not to let this promotion trick me into spending money.
Total Value of December Promotions: $86. Cafe Press buffer remains at $115.99
Here are some other freebies that I received (coupons, yard sales, other promotions):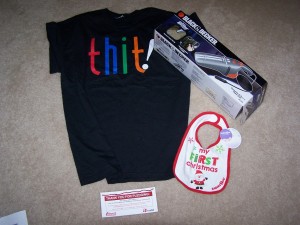 A baby play mat from a Yard Sale. One way to get freebies from yard sales is to go at the very end of the sale when the host is anxious to get rid of everything that remains. My wife and I happened to be passing by at the end of a yard sale when we were on a walk with our son. All we had to do was show interest in this play mat and they gave it to us. (It also helped that we were well-acquainted with our neighbors). This is a perfect gift for our baby and it is like new – clean and without a single defect. A similar play mat was on sale at Target on Black Friday for $20; regularly it's $40. At another yard sale I also found a Black & Decker car vacuum. It was brand new, still in the box. It had a label from Ross (which itself is discounted down from retail) for $19.99 and they sold it to me for $5 (a substantial mark down and free for me with the Cafe Press Buffer).
Coupons for 2 free ice cream cones at a local ice cream shop. I received these with reward points at RecycleBank.com and they'll make nice stocking stuffers. There is no price marked on the coupon, but I'll estimate at a value of $3. RecycleBank is an excellent way to stay "green"-conscious and get other similar freebies.
A coupon for free windshield wiper blades and a free 9 point road trip evaluation valued at $65.25. I received this coupon as part of a MADD promotion in conjunction with a local car shop (Desert Car Care Center in Arizona). In order to receive it, I had to sign a pledge saying that I wouldn't drive drunk or let any friends or family drive drunk and that I would wear a seat belt when I drive. Signing this pledge was not a problem for me since I never drink alcohol. (UPDATE/CORRECTION: The "9 point road trip evaluation" was actually $9. I could have just taken the free windshield wiper blades but I actually needed the road trip evaluation, so the $9 can be subtracted from the remaining buffer below as well as the total value of all the freebies calculated below.)
2 free Christmas baby bibs from Babies "R" Us. The coupon I used was sent to email subscribers, but I actually found it on a deals website online. My wife and I both claimed a free bib. We kept one for our baby and will give one to my nephew. They're valued at $4.99 each for a total of $9.98.
A thit! T-shirt from thit.com. Thit will be a new social network that will launch in 2013. In order to gain attention and momentum, they're giving away T-shirts. It's a good quality shirt, but not much of a gift since no one knows what it is yet, so I'll give it an estimated value of $2 with the potential of it's value to increase as thit increases in popularity.
Total value of other freebies from coupons, yard sales and other promotions: $140.22. Cafe Press Buffer 115.99 – $5 for car vacumm = 110.99.
Even more gravy from the Cafe Press Buffer (other extreme deals):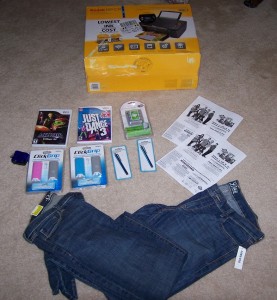 I could easily just subtract the remaining Cafe Press commissions from the rest of the items I purchased for Christmas and say that some of those items were free. Last year, I actually mentioned which items I was counting to make the post look a little more exciting. This year I won't do that with the items I had to pay full price for, but I will include some other fantastic deals that I found. These deals allowed my buffer, which I considered free money for my Christmas budget, to go much, much farther.
Metroid the Other M for Wii. I bought two of these 5.88 each by Price Matching a Big Lots Black Friday ad at Walmart. This game is regularly $49! I wish I would have thought this one out more completely. I would have purchased every Metroid they had and possibly gone to another Walmart and purchased all their copies. Then I would have traded them for other games or sold them on eBay for profit. I potentially could have had any Wii game, or any $50 product for $5.88. I could have purchased every Christmas gift I needed for my wife, siblings, parents, kids, etc. for $5.88 each. (5.88 x 2 = 11.76 + 0.95 sales tax = 12.71, regularly $98 + $7.94 sales tax).
Buffer 110.99 – 12.71 = 98.28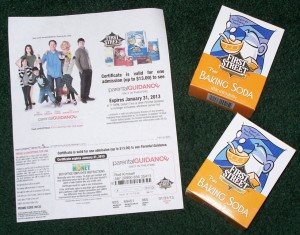 8 Movie vouchers to see Parental Guidance valued at $13 each. A movie voucher was awarded at Smart & Final grocery stores for a qualifying purchase of 2 or more First Street brand baking products. For each voucher I bought 2 boxes of baking soda for 0.75 each. So $1.53 bought 2 boxes of baking soda and a movie voucher worth $13. (1.53 sales tax incuded x 8 = $12.24, valued at $13 x 8 = $104). We will try using the complete value of these vouchers by splitting them into two matinee tickets and using them for other movies as mentioned with the Les Miserables tickets above. 6 of these vouchers were given to family members for Christmas and part of the gift was that we'd all go to the movie together.
Buffer 98.28 – 12.24 = 86.04
Kodak all-in-one printer for $14.97 on clearance at Sears ($14.97 + 1.21 = 16.18). Regularly $80 at the Kodak store. The super reduction in price was due to the fact that it was last year's model.
Buffer 86.04 – 16.18 = 69.86

Just Dance 3 for Wii for 7.99. I used a Best Buy Black Friday ad and price matched at Walmart. This game is regularly $39.96. (7.99 + 0.65 sales tax = 8.64, regularly $39.96 + 3.24 sales tax = $43.20)
Buffer 69.86 – 8.64 = 61.22
2 Hand-cranked USB chargers. The first was $0 + $5 shipping. The second was $2.27 with free shipping at FastTech.com. There was no sales tax for either since I ordered them online. This is an interesting demonstration of the different price strategies that can be used online. Even if a product is free it can still be more expensive than buying somewhere else if the shipping fee is inflated. These probably have a retail value of at least $5 each. The second one was just a good deal. (total value $10).
Buffer 61.22 – 7.27 = 53.95
3 Wii accessories for 0.99 each at 99 Cents Only store. The accessories included a rechargeable battery for the Wii board and two upgraded grip covers for the Wii remote. The grip covers could easily go for $5 each at a game store and the battery is estimated at $15 (0.99 x 3 = 2.97 + 0.36 = 3.33).
Buffer 53.95 – 3.33 = 50.62
2 Touch styluses from Dollar Tree, Styluses could range from $2-$15. These particular ones are probably valued at about $5 each due to their brand and the way they're packaged (2 x $1 = $2 + 0.16 sales tax = 2.16, valued at $10).
Buffer 50.62 – 2.16 = 48.46
USB wall charger & screen protector, $4.16 at FastTech.com. A similar wall charger is 9.84 at Walmart. A similar screen protector is $14.88 ($4.16 total spent, valued at $24.72).
Buffer 48.46 – 4.16 = 44.30
Two Jeans from Old Navy on Black Friday for $15 each, regularly $29.50 each (15 x 2 = 30 + 2.43 sales tax = 32.43, regularly 29.50 x 2 = 59 + 4.78 sales tax = 63.78).
Buffer 44.30 – 32.43 = 11.87
Total value of other extreme deals items listed above: 450.68. Remaining Cafe Press Commissions: $11.87.
That brings the grand total value of all the freebies above to:
25.17 charitable contribution +
150 from Sears Apparel Outlet +
134 Newegg +
257.97 Fry's Electronics +
38.97 Staples +
16 Big Lots +
20 Tiger Direct +
9.99 MacMall +
14.99 True Value +
14.99 Sears +
70.47 Black Friday Freebies +
86 December Promotions +
140.22 coupons, yard sales, and other promotions
450.68 other other extreme deals +
11.87 remaining Cafe Press Commissions
= $1441.32
Granted, there are a lot of rebates still pending. In order to get many of these freebies I had to pay over $500 out of pocket for items that were free after rebate with the risk that some rebates will never be honored for whatever reason. By law a company has to honor the rebate, but some still don't. I've generally had a very high success rate with rebates because I'm very "type A" at keeping them organized. I write down each item for which I'm expecting a rebate; I usually send in the rebate the day I buy the item or the day it arrives in the mail; I keep customer service numbers and tracking numbers to keep track of my rebates; I read all the fine print to make sure I'm following the rules. If you can't be "type A" or rigidly organized about it, then don't accept free after rebate offers. You'll just end up paying for the item out of pocket. And people like that are one of the reasons whey people like me can get freebies. They make it lucrative for companies to offer the rebate.
Here are some freebies that I missed:
$2 worth of items at Sports Authority. I mentioned above that I didn't use the whole $10 gift card at Sports Authority. I would have taken hand warmers as stocking stuffers for my wife since her hands are always cold. They were $1 each.
Brave DVD/Blu Ray combo. These were on sale for $8.96 each at Walmart on Black Friday. That alone is a smokin' good deal, since a Disney/Pixar movie is usually $20-$30. All the Walmart Black Friday copies were claimed within the first 15 minutes of their Black Friday sale. I would have purchased 2 had I made it through chaotic mass if hysteria to get to that end of the store in time. One would have been for my family and one for my sister-in-law. I would have used a $10 MIR mail in rebate from Kellogs and a $6 off coupon that I got in a Disney Rewards email. The $10 mail in rebate required a purchase of 2 Kellog's cereal boxes. They were on sale during Black Friday weekend at 2 for $5 at Dollar General. Without sales tax, here is what my total would have been for two of the Brave DVD/Blu Ray Combo packs and two boxes of Kellog's Cereal: (8.96 x 2) + 5 – 10 – 6 = 6.92, with a total value of about $50. I wasn't too bummed about this since my family doesn't like Brave as much as we liked Cars 2 last year. Next year I'll be watching for a similar deal for Disney/Pixar's new movie Planes.
Cabella's Black Friday Freebies. Cabellas was offering door prizes to the first 500 people in line. I would have waited in line hoping to get either a smoker cooker or binoculars, but I wasn't in close enough proximity to any of their branches to make the drive worth it. They were also offering a rifle, $500 gift cards and other prizes.
Life of Pi movie tickets. On Black Friday weekend World Market was giving away tickets for the movie Life of Pi to a certain number of first customers on Friday, Saturday and Sunday. I would have gone Friday and Saturday to get two tickets so that my wife and I could go together.
Lufkin Self-Centering 25′ tape measure. This tape measure was offered for free after rebate at Ace Hardware on Black Friday.
Mario Wii U from Old Navy on Black Friday. This game was offered to a select number of first customers at Old Navy. My wife went to Old Navy and waited two hours in line to make her purchases. If she had waited in line two hours before the store opened, instead of two hours in the register line to make her purchases, then she probably would have received the game. We don't have a Wii U, but we could have traded it for Wii games.
An iPad messenger bag was free after $15 mail in rebate at Fry's electronics. You may have noticed that I purchased a lot of iPad accessories above. Since I knew my mother was getting an iPad as a gift from someone else, this messenger bag would have been a perfect addition to the package of accessories that I was forming for her.
Thumb drives at Directron.com. A 4 GB thumb drive was free after $6.99 mail in rebate and a 8GB thumb drive was free after $9.99 mail in rebate.
Clothes at ThredUp.com. ThredUp is an online used clothes store for kids. I discovered a $15 off any purchase coupon code and a coupon code for free shipping. The only reason I didn't get this was because I missed the deadline.
A Continental Electric Steam Iron and Continental Electric Toaster were both free after $20 mail in rebate at Tiger Direct only on 12/16. On this particular day Tiger Direct had free shipping. I was too late finding this deal. This was the first time I've ever seen kitchen items or home appliances for free after rebate.
Hasbro KRE-0 Micro Changers Figure was free with a coupon from SmartSource coupon circulars. If I had caught this in time to prepare, I would have received up to 3 figurines with two coupons and a buy 2 get 1 free promotion at Walgreens.
Travel Wallet valued at $5-$15. I ordered this online from a luggage company who was giving them away but never I received it.
Here are some other Ways to Spend Less during the Holidays:
Request free samples for stocking stuffers. They come in the perfect little sizes for stockings and you can get anything from cereal to cologne. Start requesting free samples either by mail or online in October to be sure they arrive before Christmas.
Take half of your kids Halloween candy on Halloween night and keep it for stockings. You can even tell them that it's your fee for taking them trick-or-treating and getting half is better than nothing. Part of the effectiveness of this will depend on your kids- how much candy they actually get and how well they remember that you took the candy will be factors. This would have worked with my nieces. Their bags of candy were so full that my sister (their mother) could have taken half and it still would've been a lot of candy for post-Halloween and a lot of candy for stockings. Also in their minds they probably wouldn't connect the two events since Halloween is two months before Christmas. I would particularly like this idea as a parent because I have no reservations about limiting how much candy my children will eat. My kids just aren't old enough yet for me to try this. But rest assured, when they get enough candy for Halloween I will try this. Especially since stocking stuffers were my biggest expense this holiday season. All those little items add up.
Make home-made coupons. These don't reduce how much you will spend overall, but it does help to spread out the expenses so that you're less swamped during Christmas. If you barely make it within your budget after you buy the kids' gifts, then give each other coupons which can come out of your January and February budgets. Coupons are also a good embodiment of service gifts which can't be packaged or wrapped any other way. For example, my wife wanted a salon appointment and a registration fee for a half marathon for Christmas. She probably would have spent this money anyway so its nice to make it into an extra gift that she can open or discover in her stocking.
Consider other items besides candy or holiday-packaged candy for stocking stuffers. Items like Little Debbie Snacks and fruit snacks fill more space in the stocking and they cost the same or even cheaper than holiday candy.
Buy items for "free after rebate" whether you need them or not and then sell them on eBay for a profit. You'd have to be clear in the description that the packaging is damaged and/or that it's missing the bar code (which you removed in order to claim the rebate). Then use that profit to buy what you want. There was a graduate student in the news who does this on a regular basis and pays for his tuition.
It's been a fun and adventurous holiday. I had a pretty significant increase in holiday freebies this year ($1450.86 compared to last year's $298.50). I'm not sure I'll have that much of an increase next year, but I guess we'll see. The goal is more to get good gifts for others on Christmas and stay within my budget. If I wanted to get more rebate items or other freebies that I didn't need just to increase the total value calculation, then I could have.  In Microsoft Word, this post is over 18 pages long. If you've made it to the end, I thank you for reading and staying interested. Although most of the offers listed in this post are expired, I hope this information can be a good reference to help all readers learn strategies for getting freebies so that they can save their budget both during the Holidays and throughout the year. Merry Christmas!