Free After Rebate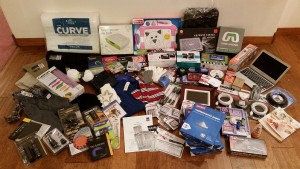 (some items listed below are not pictured)
This is the fourth year in a row that I've written an article explaining how I got free Christmas gifts. I may leave out some details since they are the same as previous years. Read the previous years here: 2011, 2012, 2013. When I explain the expenses below, I don't account for the expense of driving to buy or pick up the gift. This is something I would have to do anyway for the holiday season. I do account for the expenses of claiming a rebate, such as shipping when purchasing the item online, sales tax when purchasing the item in the store, and the postage required for claiming the rebates. Envelopes were 2 cents each and the stamps were 49 cents each. The paper I used to print rebate forms was free and I don't account for printer ink costs. The overall calculation for the value of these gifts is based on retail value.
Cafe Press Commissions is my buffer for all  freebies that weren't actually free:
I get passive income from Cafe Press, a printing company online. This passive income was actually free since I had no startup costs. Read more details on this from previous years. This year, Cafe Press commissions total $73.33. This will be my buffer that makes all other freebies below actually free. See all my designs which you can print on demand on almost any product you can think of.
Buffer = $73.33
Bank Bonuses and Charitable Contribution:
I referred my son to open a Kid Savings account with Capital One 360. This got me a $40 referral bonus and my son got a $25 sign up bonus. My son will keep the $25 as a gift. I'll add the $40 to my buffer.
When you refer adults to sign up for a Checking and/or Savings account with Capital One 360, the bonuses are much higher, especially during their Black Friday sales. I've always been happy with Capital One 360. Sign up for your own high-interest savings account and interest-earning checking account.
Value of Gifts: $25, Buffer = $113.33
Technically my buffer up to this point is income, so I have to pay taxes which I estimate to be 20% or $22.66. All remaining gifts were paid for after income taxes, they were a business expense, or they were redeemed with a coupon that stated it had no monetary value.
Value of Gifts: $25, Buffer = $90.67
My first gift of the year is a charitable contribution of $13.83.
Value of Gifts: $38.33, Buffer = $76.84
I started a business this year: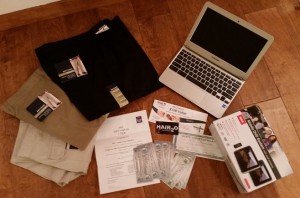 If you've ever started or owned a business, you understand that the business should be treated as a separate entity and there are many benefits of being a business owner. If you have a legitimate business expense, then that expense can be applied before taxes (not after). It can also reduce the amount of personal expenses. Here are some legitimate business expenses that the business paid for (not me):
-Samsung Chromebook, normally $229, on sale for $199 plus I got a $50 Walmart gift card
-Formal Pants x 3 (as part of a uniform), normally $20 each, on sale for $14 each
I could technically include many of the tech and office items below and then count the rebates as contributing to my buffer, but that's a little overkill for this article. The main point here is that if the business pays for it, there are tax benefits and as far as your personal money goes, it's actually free. I bought a dual screen DVD player with the $50 Walmart gift card that came with the Chromebook.
Since I'm a business owner that also means I can join certain clubs and associations, including a barter network. Since I was new, the barter network decided to give me $500 in barter dollars (the value is dollar for dollar). I used these for 2 hours of massages, a woman's haircut, a night in a hotel and $250 worth of meal vouchers that can be used at many restaurants all over town. Using these barter dollars did require a $58 transaction fee in actual money. However this is not a personal expense, it's a business expense. Visiting each of these businesses and claiming each voucher will be a marketing effort for my business, especially since I provide business to business services. (See www.MirexMarketing.com).
Value of Gifts: $877.33, Buffer = $76.84
Freebies before and after Black Friday: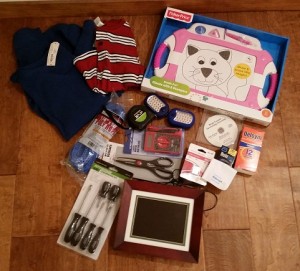 I won a $50 Staples gift card at a real estate event. I'm not counting this yet since I could maximize the value of it with rebates as explained below under "Black Friday".
I won a $10 Target gift card from a "scratch and win" card that one of my clients received in the mail and gave to me randomly. I used this to buy a Doodle toy on Black Friday for $10. It came out to 10.81 after tax. Normally the item is $20 when not on sale for Black Friday.
JCPenney mailed a coupon to JCP club members that was $10 off a purchase of $10 or more. I purchased a shirt that was $12.15 including tax, which came out to $2.15 after the coupon. The shirt was on sale and is normally $20.
I got a door prize at a real estate event, which was a 2-CD set of a recording of a John Burley seminar. If you don't know who John Burley is, he is one of 8 or 9 of the men that the "rich dad" represented in the book "Rich Dad, Poor Dad" by Robert Kiyosaki. An info product like this from an expert real estate investor could easily sell for $75. It's the perfect stocking stuffer for me. (Thanks Santa)
I collect Disney Movie Rewards. Throughout the year they give rewards away for free on social media sites, for your birthday and membership anniversary. Those rewards combined with rewards that we get for Disney movies we've already purchased gave me enough rewards to order Disney Pixar Short Films on DVD. Shipping was included and no sales tax was charged. When I receive the item, it will likely have a rewards code inside which will contribute to a free item next year, along with other Disney movies that we might get for Christmas. This DVD retails for about $20. (Not pictured in other photos above, it didn't arrive by the time we took the photos and started wrapping gifts).
I got coupons for three excellent stocking stuffers for our particular family on shopping deals websites like Slickdeals.net and Dealigg.com. The coupons were good for a free lens cloth (for cleaning glasses) from Walmart, free contacts solution from Walmart, and free body wash from CVS pharmacy. I didn't check the prices, but I'll estimate these to be worth about $7.50 at least. Something I've mentioned in articles for previous years is that you could get quite a few stocking stuffers by looking on coupons sites like CouponMom.com and requesting coupons and free samples directly from the manufacturers.
About a week or two after Black Friday, Groupon had a digital coupon for $10 off any purchase of $10 or more. I found the coupon code on SlickDeals.net. Shipping was not included and it would have cost about $4. I actually ordered an item that was more than $10 because it was something I wanted more. If I wanted to order something for $10 and just pay shipping, I could have. And for this scenario, that's what I'm counting (that's what one of the clothes items in the pictures represents).
I purchased a like-new digital photo frame for $3 at garage sale. A digital picture frame like this would normally cost anywhere between $15 to $35. I'll count the more conservative estimate ($15) for this article.
Sears/Kmart sent me $10-worth of "shop your way" rewards points. I used the rewards points to buy an SD card. I had enough points that I previously aggregated for any tax and it was shipped to a local store for free pickup. This is an excellent combination for the digital picture frame.
Harbor Freight Tools sent me 7 different coupons in the mail before and after Black Friday that were good for a free item each, no purchase required (actually free)! These items included a tape measure, two work lights (flashlights), a multimeter, scissors, a rope and a screwdriver set. I didn't record the exact retail value of each, but I estimate that they're each worth $5, except the multimeter which is about $10 (total value $40). No sales tax was charged. After browsing the store I could also tell that they had distributed other coupons through other marketing channels which I didn't not receive. Harbor Freight was nice this year.
Delsym had a free after rebate offer to encourage people to try their cold medicine. The rebate was good for a product up to $14, but I only purchased one that was $11.92 + $0.97 sales tax. Cold medicine will be a perfect stocking stuffer for anyone that might have a cold on Christmas. Hopefully no one will, but there is nothing better to receive than cold medicine when you actually have a cold. Expenses = 0.97 sales tax +  2 cents envelope + 49 cents for a stamp = $1.48.
Value of Gifts: $1106.75, Buffer = 65.40
Black Friday Freebies: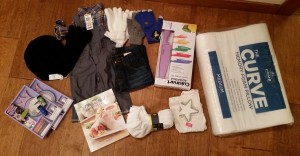 The "free after rebate" deals that I got on Black Friday are mentioned separately below. For more information on Black Friday Freebies read the Black Friday Freebies posts: 2012, 2013, 2014.
JCPenny was giving away door prize coupons good for $10 off any purchase of $10 or more. Between me and the other people shopping with me, we got 5 of these coupons. We were able to use each of them as long as they were each used in a separate transaction. Here's what we got:
-memory foam pillow, normally $15, on sale for $10, free after coupon
-Cuisinart 12 pc knife set, normally $40, on sale for $17, $7 after coupon
-kids jeans, normally $15, on sale for $11.06 including tax, $1.06 after coupon
-set of socks and 2 pairs of gloves, normally $30 ($10 each), on sale for $11.50, 1.50 after coupon
-baby PJs and pair of gloves, normally $35 total ($15 and $10), on sale for $11.25, $1.25 after coupon
Total expenses: $10.81
Total retail value: at least $135
Macy's had a scan and win promotion on Black Friday. I had to download their app and scan QR codes in the store. Only one QR code could be scanned every hour. After scanning a QR code a game was played with 5 attempts to win. I played the game a handful of times and won a gift code for $10. There were many nice kitchen appliances that were on sale at Macy's for $10 (valued at $40 to $50). My wife and I considered many of them but we already had many of our gifts planned out. So, ultimately we went with an outfit for our son. It was normally at least $20, on sale for Black Friday for $10.80 including sales tax, $0.80 after the coupon code.
Costco gave away cookbooks on Black Friday again this year. Similar cookbooks would cost about $10 or more.
Stein Mart had a "scratch and win" coupon in their Black Friday ad. I had to buy two newspapers to get this ($6) and my wife and I each used a coupon which we correctly guessed was going to be $10. We could have won up to $100, but according to the rules a store associate had to scratch the coupon the reveal the reward and this year the associate wouldn't do it before the purchase. In previous years the associate scratched it upon request when I came into the store so I knew how much I had to spend. In two transactions my wife and I purchased a blanket, two craft kits for kids, and kitchen clips to bring the one of the transactions over $10. The total value was $40, the items were on sale for $24 total, and they were $4 after the coupons. Expenses = $6 for two newspapers + $4 = $10
The day before Thanksgiving, New York & Co gave out "peel and win" gift cards. My wife and I each got one worth $5. In two transactions we purchased a hat and gloves that retail for $24 each ($48 total). They were on sale for Black Friday for $8 each ($16 total). After the coupons, they were $3 each ($6 total).
Note: Even after coupons these items were still more expensive than the same thing at JCPenney. Part of what we paid for was the brand name and this looks like a nicer gift for the person that we'll give it to. However, a savvy shopper, extreme saver and freebie seeker will understand that this deal probably wasn't worth it. As mentioned below, New York & Co had different pricing later in the season.
Value of Gifts: $1359.75, Buffer = $37.79
Free After Rebate from Staples: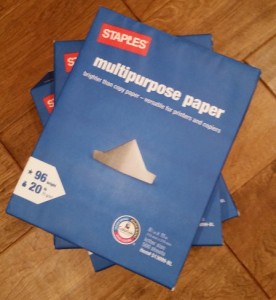 -Staples paper reams x 4 = $31.16 – $31.12 easy rebate = 4 cents + tax
Total retail value = $31.16
Staples easy rebates do not require envelopes or stamps. It's all done online. Total expenses = 2.52 sales tax + 4 cents = $2.56
Remember I mentioned above that I won a $50 gift card to staples. I used this gift card to buy these items that were "free" after rebate, so this rebate actually adds to the buffer. And there is still $18.84 on the card.
Value of Gifts: $1409.75, Buffer = $66.35
Free After Rebate from Fry's Electronics:
-Rhino 40 Pc socket set: 8.99 – 3.99 instant savings – $5 MIR = Free + tax
-Wagan LED work light: 9.99 – 2.50 instant savings – $7 MIR – $0.50 + tax
-Wagon cupholder 2 DC and USB adapter: 16.99 – 6.99 instant savings – $10 MIR = Free + tax
-Rhino 31 pc screwdriver set: 9.99 – 4.99 instant savings – $5 MIR = Free + tax
-Antec Cleaning Kit: $4 – $4 MIR = Free + tax
-Signalex USB LED Light: $4 – $ MIR = Free + tax
-Thermaltake Allways Simple Cooler: $13 – $13 MIR = Free + tax
-Antec Accent Lighting: $5 – $5 MIR = Free + tax
-Antec XL Mircrofiber Cloth: $2 – $2 MIR = Free + tax
-Duracell 4000mAh Power Bank: $10 – $10 MIR = Free + tax
-Rhino USB Mini Vacuum: $3 – $4 MIR = -$1 + tax (that means it paid $1)
-Inland 15.6" Carrying Case: $7 – $7 MIR = Free + tax
-GG Cruiser XB200 Gaming Headset: $35 – $35 MIR = Free + tax
-Nuance Dragon Premium 12: $49.99 – $50 MIR + $5 Fry's Gift card with promo code = Free + $5 gift card + tax
-Berlitz Italian Premier: $29.99 – $20 MIR – $10 MIR + $5 Fry's Gift card with promo code = Free + $5 gift card + tax
-AVG Protection, Unlimited, 1 year: $44.99 – $45 MIR = Free + tax
-Artist Bundle: $78.99 – $79 MIR + $10 Fry's Gift card with promo code = Free + $10 gift card + tax
-Manicure set: $8 – promo code = $1
-Pack of 4 AA batteries x 10 ($10), $1 ea – 0.93 ea on sale with promo code = $0.07 x 10 = $0.70
With promo codes sent through the Frys email club, I got a total of $20 in Fry's Electronics gift cards with three of the purchases mentioned above. I used those for the following:
-Stick immersion blender ($15)
-Despicable Me 2 Blu Ray DVD combo (normally $20, on sale)
Total about $24 – $20 gift card = $4 including tax
Total retail value: $385.92
Total expenses = $25.47 sales tax + 18 envelopes and stamps (9.18) = $34.65
Total Value of Gifts: $1795.67, Buffer = $31.70
Free After Rebate from Tiger Direct: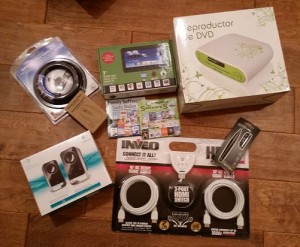 -Inveo 3-port HDMI Switch and 2 cables: $24.99 – $25 MIR = Free + shipping
-Kensington Virtuoso Metro Stylus and Pen: 5.99 – 5.99 MIR = Free + shipping
-Starlite DVD player: $14.99 – $15 MIR = Free + shipping
-Proscan 7" tablet and McAfee 2015 multi access 1 user 5 devices: $69.99 – $70 MIR = Free + Shipping
-Logitech Stereo Speakers: $14.99 – 14.99 = Free + shipping
-Family Software Suite Deluxe: $14.99 – $15 MIR = Free + shipping
-Raygo Wireless Optical Mouse: 9.99 – 9.99 MIR = Free + shipping
-Ultra Universal GPS dash mount: 9.99 – 9.99 MIR = Free + shipping
-Complete Software Suite: $14.99 – $15 MIR = Free + shipping
Note: The McAfee rebate required activation of annual renewal, which required credit card information. I'll cancel the automatic renewal when I receive the rebate.
Total retail value: $180.91 (or over $1,700 depending on how you look at it, more details below)
Total expenses = $0 sales tax + 21.88 shipping for multiple orders + 9 envelopes and stamps ($4.59) = $26.47
Total Value of Gifts: $1976.58, Buffer = $5.23
Super Saturday Freebies:
[picture not available]
There are multiple "Super Saturday" sales throughout the year. One common "Super Saturday" is the Saturday before Christmas. Since I was subscribed to their email lists, I found out about promotions at two retailers that were similar to promotions you'd see on Black Friday.
New York & Company gave out a "peel and win" gift card to the first 100 customers in the store. This was exactly like their promotion the day before Thanksgiving. I won $5. I bought earrings that are normally $10, on sale for $6, $1.06 after the coupon and including tax. The pricing throughout the store was very different on Super Saturday than it was the day before Thanksgiving. All prices were lower, not just the jewelry.
Dick's Sporting Goods gave a $10 coupon to the first 100 or 200 customers in the store (I forgot the exact number). I purchased sweat bands for jogging and a hand warmer for camping which came out to 9.98. Some coupons like this require that you exceed the amount of the coupon, but this particular one didn't. There was no sales tax since a percentage of 0 is 0.
Total value of gifts: 1996.56 + $4.17 left over from the buffer = $2000.73
Last year's total was $1445
Valid arguments as to whether I actually beat last year's total:
I was sloppy in the accounting this year. I didn't have exact amounts for everything listed above, but my estimates were pretty close. One could say that I was cheating by having my business pay for stuff and say it was free, since technically I make less profit if my business spends more. However, that's a legal and legitimate way of lowering income taxes. If you don't count the business purchases ($789), then the total is this year is $1211.73, which didn't beat last year's total, but still came close. If I wanted to, I could have purchased more items from Tigerdirect and Newegg to bring the total up. There were also two software discs that I purchased for $15 each (both free after rebate + shipping) which were worth over "$1,700" combined. That's because together they contain over 30 software programs that could cost that much if purchased separately. So arguably, I beat last year's total just by purchasing these two software discs from Tigerdirect (although I didn't count it this way in the math above).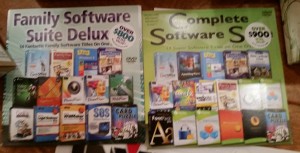 The important points are these:
Did I get free Christmas gifts that were actually free? Yes, absolutely. Every time an item is listed above where the buffer didn't change (i.e. no expenses), those transactions were actually free, even if you don't count the business purchases.
Are there strategies included here that can help you do your Christmas shopping without breaking the bank? Absolutely. It just takes some planning and "type A" organization.
Freebies I missed:
Normally I explain the freebies I missed in detail. I'm not sure how helpful that is to readers, so this year I'll just list what I could've received if I had the time. What might be more helpful to readers is the Black Friday Freebies posts of previous years (2012, 2013, 2014), which can be used for reference next Black Friday.
On Black Friday I missed Sports Authority's Thursday and Friday "peel and win" gift cards, PetSmart's free pet stocking, Old Navy's win a million dollars sweepstakes (I didn't win), and Bass Pro Shops' door prize and raffle on the Saturday after Thanksgiving. Also I didn't buy anything from Newegg this year. Usually if Newegg has something that I want for free after rebate, then I'll buy it from Newegg instead of Fry's Electronics or other competitors since shipping is usually free from Newegg and you don't pay sales tax unless you live in one of their three states of operation (this means it's actually free).
Merry Christmas and Happy New Year!